NEIGHBORS HELP NEIGHBORS
"Bill Gates has his foundation, and I have mine," jokes James Mitchell, who established an Acorn Fund in 2013 to support programs that promote healthy living among underserved residents of Delaware County. At age 40, Mitchell views the Foundation as a flexible philanthropic partner that enables donors like himself to see the positive results of their gifts. He chose the Acorn program because it was a manageable way to grow an endowment over a five-year period. "The Foundation made it easy for me to start the fund," he says.
At maturity, the Bill & Nancy Mitchell Living Well in Delaware County Fund—named in honor of his parents—will be a field-of-interest fund. The Mitchell family can designate a cause or issue of importance to them without naming specific nonprofit agencies as beneficiaries. The Foundation's board then takes into consideration the donors' priorities when it makes its grant allocations. Mitchell endorses this process because the Foundation "values what I value in our community."
Many of these values were passed on to him by his grandmother and parents, avid volunteers with such nonprofit organizations as the American Legion, Boy Scouts, and their church. "They encouraged community service," Mitchell recalls. Following their lead, he became a volunteer with Habitat for Humanity after relocating to Delaware County. "The need to be connected helped me learn more about Muncie," he says. He chose Habitat because he liked the idea of neighbors helping neighbors. It was a concept similar to the Foundation's mission as the go-to place where neighbors create legacies. Both organizations rely on group participation to bring tangible outcomes. "I want to put my resources where they will make the most difference," he says. "The Foundation is that place."
The Community Foundation accepts gifts of all sizes. Establishing a fund is one way that your name and legacy can live on to benefit the community. All gifts are subject to the powers of modification and removal as specified in the United States Treasury Regulations Section 1.170A- 9(e)(11)(v)(B).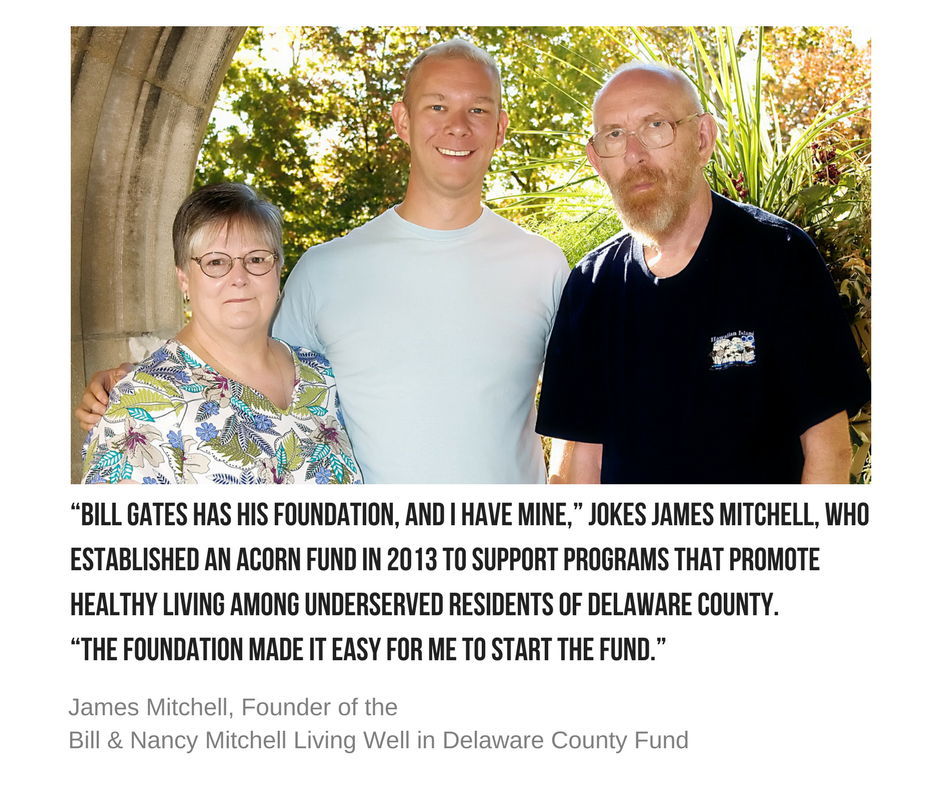 Give Now
Your gift supports your community and the things you care about. Donate today to make Delaware County a better place today, tomorrow, and always.