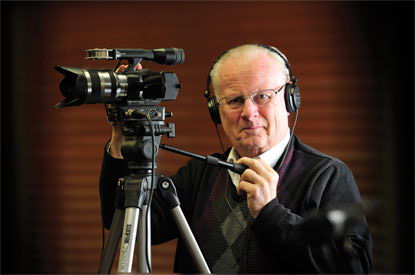 In his almost four decades as a teacher within the Muncie school system, Gary Addison saw firsthand the positive influence that classroom educators can have on youth. To encourage college-bound students to pursue careers in K-12 education, he established the Gary W. Addison Scholarship at The Community Foundation in 2010.
His efforts to ease the financial burden of higher education were linked to his personal experience. When Addison entered college in 1964 he cobbled together loans and worked summer jobs to meet tuition expenses. Still, he admits he "didn't have a prayer" without the scholarships he received in his hometown of Hobart, Ind. These helped pay for his freshman year at Northwestern University. He then transferred to Marion College and received additional scholarships to finish his degree in English education.
"I was helped because somebody saw fit to put up some money," he says. In the spirit of this generosity, he met with the staff at The Community Foundation, created the Addison Scholarship fund and specified the requirements for its recipients. Applicants need to have earned a 3.0 grade point average or higher and have "gone above and beyond their academic studies outside the classroom."
Eligibility:
Graduating senior from an accredited high school in Delaware County, Indiana

Resident of Delaware County, Indiana

Applicants must have a 3.0 (or the equivalent) cumulative grade point average or higher

Applicant must plan to major in K-12 education and pursue a full-time baccalaureate course of study at any accredited college or university.

In selecting a recipient, consideration will be given to the applicant's academic ability, citizenship, community service, and extra-curricular activities. The selection committee will give greater consideration to those extra-curricular activities of an academic nature (science fair, academic teams, drama or theater, 4-H, band, scouts, debate team, etc.)

This scholarship is designed for the student who has gone "above and beyond" his or her academic studies outside of the classroom and one who has not received other major scholarship awards.

Applications for this scholarship will be open on January 1, 2022.