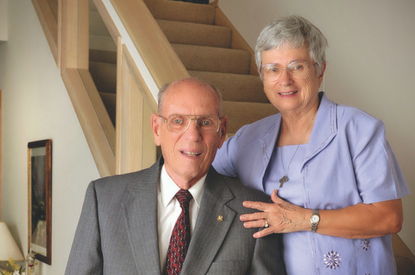 The Charles W. and Jane (Klipsch) Thomas Scholarship was created by Charles and Jane Thomas in order to financially assist a Delaware County high school graduate with at least a 3.0 GPA planning to attend an accredited four-year college or university. The Thomas family, long-time supporters of education, created this scholarship to alleviate the costs of a college education and allow students who wish to learn to pursue their dreams.
To be eligible for his scholarship, the applicant may not be the recipient of another major scholarship, although the applicant may receive other minor awards. This was a very intentional decision made by the Thomas family, as they know that many awards are received by the top students of high school graduating classes. Because this scholarship is intended for only those students who have not received major awards, this award can benefit a student with a desire to learn and who is deserving of recognition, but might not be a top student.
Knowing that they wanted to financially contribute to the education of high school graduates in need, the Thomas family chose to create a fund through The Community Foundation. Charles and Jane Thomas turned to the Foundation due to their close ties to and respect for other individuals who are also involved with The Community Foundation.
Charles and Jane Thomas are members of First Presbyterian Church, although they were long-time members of St. Andrews Presbyterian Church; at St. Andrews Presbyterian Church, both were Elders, and Jane was also the financial secretary for 15 years. The Thomas family also deliver Meals on Wheels in the community. Charles is a founding member of the Junto Club, and Jane is involved with Master Gardeners and gave tours at Minnetrista for many years. Aside from their involvement in bettering the local community, both Charles and Jane are licensed pilots and flew their own planes for 25 years. They owned a total of 3 planes during the time that they were active pilots.
The Thomas family has maintained close ties in the community, and their giving of time and finances has a positive impact on the local area. Their scholarship fund, which benefits intelligent, hardworking, and determined students who may not be the top in their graduating classes, plays a key role in supporting the education of the community. The Charles W. and Jane (Klipsch) Thomas Scholarship will continue to benefit the local community and education, providing a lasting impact on students for the generations to come.
Eligibility:
Graduating senior from an accredited high school in Delaware County, Indiana

Resident of Delaware County, Indiana

Applicants must have a 3.0 (or the equivalent) cumulative grade point average or higher Applicant must plan to pursue a full-time baccalaureate course of study at any accredited college or university.

In selecting a recipient, consideration will be given to the applicant's academic ability, citizenship, community service, and extra-curricular activities. The selection committee will give greater consideration to those extra-curricular activities of an academic nature (science fair, academic teams, 4-H, band, scouts, debate team, etc.)

This scholarship is designed for the student who has gone "above and beyond" his or her academic studies outside of the classroom and one who has not received other major scholarship awards.

Applications for this scholarship will be open on January 1, 2022.