FIND FUNDING
This year, The Community Foundation hit a major milestone in grantmaking. Since our beginning, we have awarded more than $50 million in grants to enhance the quality of life in Muncie and Delaware County.
$50,768,959.69
From our first grants in 1986 to the end of 2018, more than $50 million has supported programs and projects in our community and made a difference in the lives of the residents of Muncie and Delaware County. Each grant was made possible through generous contributions by donors, like you, who can see the role of the Foundation in the community today, tomorrow, and always.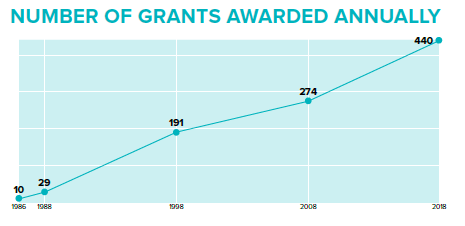 The Community Foundation grants to nonprofit organizations and educators throughout Delaware County through a variety of grant programs.
We fund grants that address the broad needs of Muncie and Delaware County in the areas of arts and culture, community betterment, economic development, education, and human services.
Effective June 1, 2017 all grant applications, with the exception of Land Conservation Fund Grants, will be submitted online through a grants management system. Learn more about how to use the online system or access the frequently asked questions. As always, Foundation staff is always available to answer questions. Please do not hesitate to contact us.
Contact Us
We're all about serving the community, so we welcome input from the community. Tell us about a need, ask how to get involved, or just let us know what you think of our website. We look forward to hearing from you.