JEAN & MORA MORRIS FUND FOR YOUTH SUPPORTS DELAWARE COUNTY YOUTH SERVING ORGANIZATIONS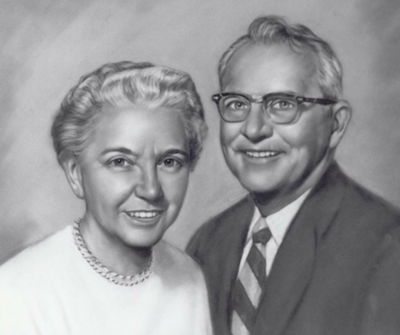 Jean and Mora Morris started their life together humbly. The couple married in 1933. Dr. Morris started his surgical residency at Ball Memorial Hospital in 1934, earning $10 a month plus room and board. Mrs. Morris, a Muncie native, worked as a home economics teacher.
While they never had any of their own, the couple shared a passion for the well-being of children. They also kept ties to Muncie even after moving to Hartford City in 1936. During their life together, the couple supported a variety of community organizations, but they always had a special interest in community programs that supported youth.
After her retirement and the death of her husband in 1991, Mrs. Morris spent her time and energy volunteering, advocating, and giving back to many worthwhile causes. But, Dr. and Mrs. Morris' impact didn't end there. Mrs. Morris named The Community Foundation in her estate plans, resulting in a $2 million gift designated to support 10 specific charitable organizations and other youth programs.
"In her wisdom, Mora Morris realized we couldn't possibly know today what all of the youths' needs of the future would be," said Roni Johnson, former president of The Community Foundation. "Therefore, we can use the money to react to programs that arise, or we can create a program if we see the need."
Due to the generosity of the Morrises, the following organizations receive annual support for their youth serving programs: Boy Scouts Golden Eagle District of Crossroads Council, Wapahani Girl Scout Council, YWCA, YMCA, Junior Achievement of East Central Indiana, Big Brothers and Big Sisters, Muncie Children's Museum, Youth Opportunity Center and Muncie PAL Club. Since the fund was established in 1994, $2.66 million has been distributed to youth serving organizations.
Big Brothers Big Sisters of Delaware County received $8,500 from the 2017 distribution. This support helps them match "Littles" in the community with "Bigs." They shared the story of Kamereon, a senior at Muncie Senior High School, who has been matched with his Big Brother for 11 years.
Kamereon's mom, Christian, said, "Mike has been more than Big Brother to Kameron. He's been really important as Kameron is growing up without a father. I just can't be all things to my kids. Mike being there has helped Kamereon grow and learn how to be a good man. I just don't know what I would do without Mike and Big Brothers Big Sisters."
Sue Godfrey, executive director of Big Brothers Big Sisters explains, "The Morris Fund's support allowed potentially difficult stories to turn into stories of hope and community impact. Mentoring relationships, like Mike and Kameron's, have lifelong effects. BBBS's impact on its Bigs and Littles extends long beyond the years engaged with the agency. Your partnership allows us to make a lifelong impact on the children and volunteers we serve."
Give Now
Your gift supports your community and the things you care about. Donate today to make Delaware County a better place today, tomorrow, and always.