Youth Symphony Orchestra Helps Young Musicians Develop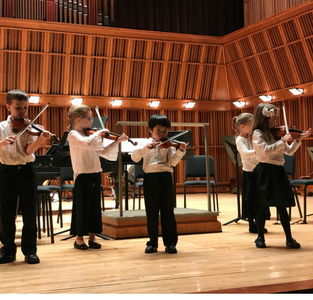 Ten local five- and six-year-olds developed their musical skills through a Suzuki-based violin class offered by East Central Indiana Youth Symphony Orchestra. A $3,000 grant from The Community Foundation allowed the class to be available and provided scholarships to students.
Throughout the year, students met weekly for Suzuki class and performed in three concerts. The students in the small class quickly became friends and celebrated each other's accomplishments and supported one another through the challenges associated with learning a new instrument.
Parents watched their children build their skills and find new confidence through their music education.
"A.G. had another great year with YSOECI," said one parent. "I saw great strides in her confidence level and her comfort level being on stage and in front of people. She grew musically as well and loved the violin this year! She is looking forward to next year. We greatly appreciate the scholarship program. We are not at a place financially to be able to pay for private lessons, but we highly value music education and are so happy A.G. can participate in this program."
The Community Foundation is pleased to be a part of programs, like this one, that support arts and culture, education and quality of life in Delaware County. We continue to support this organization in 2017 with a $4,000 grant that funds a partnership project between the Youth Symphony Orchestra and Ball State University designed to give more individualized music instruction to young musicians by pairing them with BSU music education students.
Quarterly Competitive Grants are funded through unrestricted gifts to The Community Foundation.