URBAN LIGHT CDC CREATES AFFORDABLE HOUSING WITH A GRANT FROM THE COMMUNITY FOUNDATION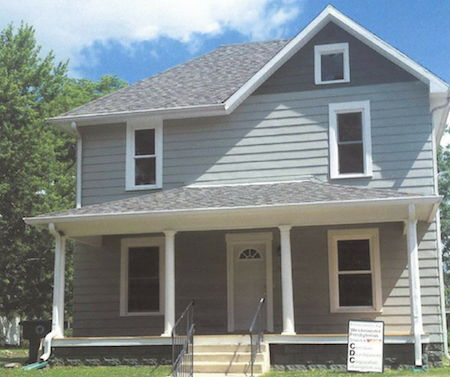 The Urban Light Christian Development Corporation supports community development in under-resourced neighborhoods in urban Muncie. A big part of what they do is work with community members to find sustainable solutions to address the root causes of neighborhood challenges.
In many neighborhoods, a big challenge is safe, affordable housing. This is no exception in the South Central Muncie Neighborhood. In 2015, Urban Light CDC applied for a grant to rehabilitate and remodel a home at 120 E. 7th St. The house would be available for purchase by a first-time home buyer.
With support of a $24,000 grant from The Community Foundation's Quarterly Competitive Grants Program, the Urban Light CDC was able to recreate a high-quality, single-family, owner-occupied home. The home was available for sale to families who completed the Urban Light CDC Financial Friends program, a volunteer-driven program that assists families and individuals with financial decision-making and helps them become mortgage ready. The home sold earlier this spring!
Quarterly Competitive Grants are funded through unrestricted and field of interest endowment funds at The Community Foundation. Contributions to The Unrestricted Fund from our donors increase the level of grants available annually. Donate now.
Apply for Grants
The Community Foundation grants to nonprofit organizations and educators throughout Delaware County through a variety of grant programs.