THREE TRAILS MUSIC SERIES MAKES MUNCIE A PLACE TO PLAY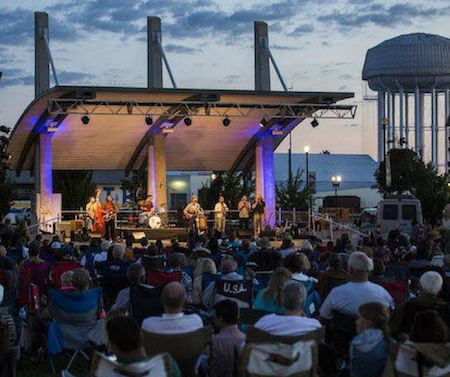 Summer nights are time for outdoors and music. For four years, the Three Trails Music Series has brought nationally known and critically acclaimed performers to a series of free concerts at Canan Commons, Muncie's premier outdoor performance venue.
A $5,000 competitive grant from The Community Foundation supported the Muncie Three Trails Music Series in 2016. Performances included John Scofield, Pokey Lafarge, Bela Feck and more. Local artists also performed opening acts. Additionally, organizers of the Three Trails Series worked with other community organizations and events to enhance the experience for attendees. For example, the final concert of the season coincided with Muncie's ArtsWalk, the city's largest first Thursday which takes place in October.
This year's concerts attracted more than 4,100 attendees, many of whom experienced Muncie in a new way. In addition to providing entertainment, the series aims to promote Muncie and its amenities. More than half of attendees reported that they were out-of-town visitors to Muncie, 40 percent of attendees had dinner at a local restaurant and many said they had shopped or visited a museum or gallery, or walked on one of Muncie's three trails before attending the show.
Through the Quarterly Competitive Grants Program, we focus on projects that demonstrate positive quality of life in areas like arts and culture, economic development, and community betterment. The Three Trails Music series and its cooperative involvement of the Muncie Downtown Development Partnership and the Muncie Arts and Culture Council enhances our community. We are proud to have supported this annual series with $30,000 since its inception in 2013.
Quarterly Competitive Grants are funded through unrestricted and field of interest endowment funds at The Community Foundation. Proposals are reviewed by a committee of volunteers and selected in a competitive process. Applications are accepted from nonprofit organizations. Learn more about Quarterly Competitive Grants or how you can contribute.
Give Now
Your gift supports your community and the things you care about. Donate today to make Delaware County a better place today, tomorrow, and always.