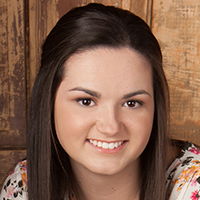 Taylor Gillum, a senior at Daleville Jr./Sr. High School, is the recipient of the 2019 Sarah E. Adams Scholarship and the Bobby Watters Scholarship.
Established in 1997, the Sarah E. Adams Scholarship Fund memorializes Sarah Adams, a young woman from the community whose life tragically ended in a car accident. Sarah was an avid golfer and is remembered for her enthusiasm and spirit of winning.
The Sarah E. Adams Scholarship is awarded to a member of a Delaware County High School girls' golf team who has displayed good citizenship and a "zest for life." This four-year renewable scholarship is for use while attending an accredited college or university in the State of Indiana.
The Bobby Watters Scholarship was established in memory of Bobby Watters by the Daleville Athletic Boosters. Bobby was a supporter of Daleville Jr./Sr. sports and attended every Daleville athletic event he could. This scholarship recognizes a graduating student from Daleville who has shown a passion for bettering the community, just like Bobby.
Taylor plans to attend Anderson University to study athletic training. She is the daughter of Rob and Debbie Gillum.