Taylor Estep is the recipient of the J. Burgess Memorial Scholarship.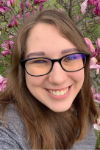 Taylor is studying Business Administration and Pre-Medical Studies.
This scholarship is awarded to a Ball State University student who is a graduate from a Delaware County high school, and who is obtaining a business degree from the Miller College of Business.