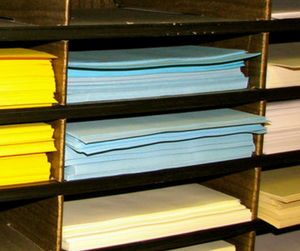 Teachers in Delaware County served their students with 19,000 more school supplies in their classrooms in 2016 thanks to the Back To School Teacher Store. Outreach efforts in 2016, funded with a $5,600 Maxon Foundation Fund grant resulted in 159 more shopping visits taking $80,000 more in supplies into the schools between 2014 and 2016.
The Maxon Foundation Fund Grant allowed the Back to School Teacher Store to make shopping easier for teachers by developing basic supply packages, as well as purchase student incentives for good behavior. It also supported direct outreach to early education providers, K-12th grade Title 1 and high priority schools.
K-12, HIGH PRIORITY SCHOOLS, AND AFTERSCHOOL PROGRAMS
Outreach via interviews and phone calls to local principals helped, Back to School Teachers Store executive director, Stacey Wheeler, gain an understanding for the school supply needs in our community. In addition to traditional supplies, like pencils, paper and glue sticks, teachers are able to find educational equipment and tools at the Back To School Teachers Store. With grant dollars the store purchased basic school supplies like copy paper, scissors, markers and crayons. The grant also allowed the store to acquire Franklin athletic balls, which were given to Muncie Community Schools to support their Positive Behavioral Interventions and Supports (PBIS) program and to the Inspire Academy's incentive based program to reward students for good behavior. Additional products were purchased to support PBIS and incentive-based programs.
EARLY CHILDHOOD EDUCATION
The impact isn't limited to K-12. Early childhood facilities can also find support through the Back To School Teachers Store. Thanks to outreach efforts, supported by the Maxon Foundation Fund Grant, the number of pre-K facilities represented as shoppers increased from two to six. Represented organizations include Huffer Memorial Children's Center and United Day Care Center, who are also recipients of a Community Foundation Grant. Their 2016 Quarterly Competitive Grant was a joint application between those two facilities and the Ball State University Child Study Center to access funds from the Early Education Matching Grant Program. Grant dollars will provide one year of quality early childhood education to 28 four-year olds who are at-risk of school failure. Continued outreach on the effort of the Back To School Teachers Store will ensure that classrooms of students of all ages have the supplies needed for successful learning.
Through our grants programs, The Community Foundation continues to support education projects and programs, like The Back To School Teachers Store. The Maxon Foundation Fund, originally established by the Maxon Corporation and its founding family, generally awards grants to organizations and program that support at-risk children and families. Learn more about the Maxon Foundation Fund grants program.
Apply for Grants
The Community Foundation grants to nonprofit organizations and educators throughout Delaware County through a variety of grant programs.