STUDENTS LEARN ELECTION LAWS THROUGH MOCK ELECTION THANKS TO BELL EDUCATION GRANT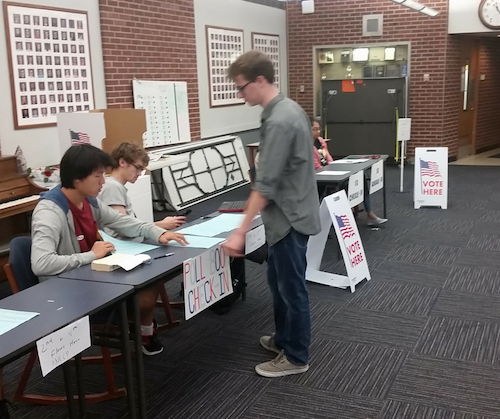 Students at The Indiana Academy for Science, Mathematics and Humanities learned election laws and procedures through a hands-on election process that mimicked what they would experience at any polling place. A $228 Robert P. Bell Education Grant allowed history teacher, John Marsh to purchase voting booths signs, seals and ballot boxes to host a mock election for students on election day.
The mock election expanded on classroom teaching of the nomination process, electoral college, candidates and issues. Prior to election day, students were trained as poll workers according to Indiana law. On the nationwide election day, polls were open from 8 a.m. to 6 a.m. for students to vote. In addition to including actual national and state candidates, and the state-wide referendum on the ballot, students were offered the opportunity to put on "local" referendums that pertained to the Indiana Academy.
Just as they might in a real election, these local referendums generated even more interest and increased voter turnout. Voter turnout for the mock election was 67 percent.
"Through hands-on participation and responsibilities, the end result for students would be a broad understanding of the election laws and procedures regarding this most central right of citizenship," said Marsh. "Classroom questions and discussion were definitely enhanced by the voting experience. So, overall we would consider this an educational success."
Robert P. Bell Education Grants are awarded to teachers and counselors with creative and innovative ideas, programs, or projects that are designed to stimulate learning in their students. Grants range in size from $50 - $450.
Give Now
Your gift supports your community and the things you care about. Donate today to make Delaware County a better place today, tomorrow, and always.