Sonja Ivy is the recipient of the Hurley C. and Fredine Wynn Goodall Scholarship.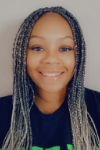 Sonja is a student at Ivy Tech Community College and is studying business administration.
The Goodall Scholarship honors the late Hurley C. Goodall and his wife, Fredine. Hurley served as a state legislator, a firefighter on the Muncie Fire Department, and former board member at The Community Foundation. This scholarship is awarded each year to two minority students enrolled at Ivy Tech Community College in Muncie.