PUZZLES INTRODUCE STUDENTS TO SHAKESPEARE AND TEACH THE VALUE OF TEAMWORK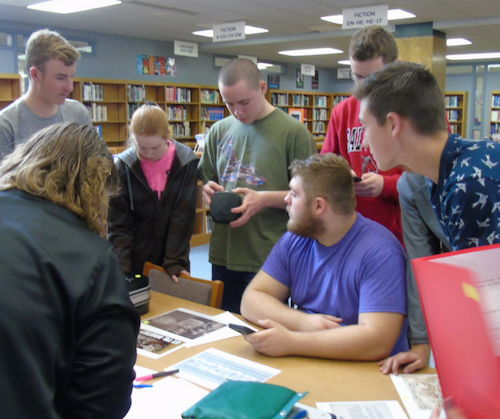 A few minutes after the bell rang, two teams of 10th graders tentatively walked into the Muncie Central library. Teachers showed them where to look for clues and the game had begun.
A $250 Robert P. Bell Grant funded units that utilized two Breakout EDU Kits to be used in collaboration by library media specialist, Elaine McDonald, and language arts teacher, Krista Cloud-Johnson.
Breakout EDU is an escape room style challenge that requires players to find clues and solve puzzles in order to open locks and solve a mystery. The goals of the Breakout EDU model are to increase student engagement, collaborative skills, problem-solving skills, and subject matter understanding. More than 250 game plans in a variety of content levels have been created on the open source Breakout EDU platform that can be customized for classroom needs.
Students quickly gathered their clues, hidden around the library, and got to work in teams to solve the puzzles which included word searches, maps, riddles and more.
"Someone Google this quote. The answer might be a clue," exclaimed one student to his teammates.
The 10th-grade students were introduced to a lesson on Shakespeare through this Breakout EDU game titled "Shakespeare: Lost in Time." In the game, Shakespeare has time traveled to the present and students have 45 minutes to get him back to his own time or all of his plays will be lost forever. Through the clues, students are introduced to some of the words coined by Shakespeare, several of Shakespeare's plays, and the Globe Theatre.
By putting their heads together, dividing smaller tasks, and working as a team, one group solved the puzzle quickly and took time to reflect on the experience.
"When you guess something, even if it's the wrong thing, it can give someone another idea," explained one student.
Another added, "Yeah. You can't always do it by yourself."
These important lessons are much easier to teach through activities like this one. The kits provide endless opportunities.
"The kit can be reused with new clues and configurations," explained McDonald. "Teachers can share puzzles for different lessons and classes."
Robert P. Bell Education Grants fund creative and innovative classroom projects. Teachers can apply for grants from $50 to $450 dollars.
Give Now
Your gift supports your community and the things you care about. Donate today to make Delaware County a better place today, tomorrow, and always.