In Nancy Zachary's kindergarten class at North View Elementary School, budding scientists studied the seasons with the support of a $378 Robert P. Bell Education Grant.
Mrs. Zachary shared about the classroom project: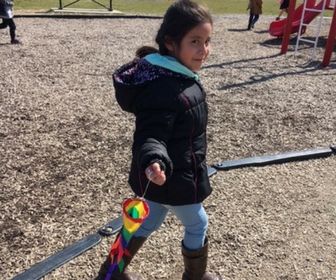 During our Seasoned Scientists activity, students began by reading about day and night. Students then explored how the sun affects our weather here on Earth. The class also tracked our weather patterns throughout January and February, discussing how the sun affected our weather during these months. Students continued to learn about the day sky, night sky, seasons, and weather through investigating with Science File Folder games. The class truly enjoyed playing these games and proved what they learned with these simple assessments. Finally, students were able to act as astronauts exploring the day and night sky through the Starlab Exploration.
Overall, the "Seasoned Scientists" project was a great success! The students became engaged by using tools and instruments like true scientists. They also recorded weather patterns to see the changes over the month of February. The model of the sun, earth, and moon were successful in showing the students the relationship between each. Students continue to use the folder games to learn about the seasons and weather we experience here in Indiana. Students were amazed with the Starlab and intrigued with our night sky. They continue to be scientists looking through the constellation viewer!
The students truly enjoyed engaging in all activities throughout this project. You have helped to further science exploration at North View! I am very humbled by the acceptance of my Bell Grant request, and I am very thankful for the generosity of The Community Foundation.