Samuel Woodson is the recipient of the Delta Eagles Wrestling Scholarship.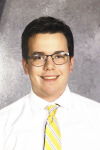 Samuel is a senior Delta High School. He plans to attend Ivy Tech Community College to study physical therapy. He is the son of Patrick and Danielle Woodson.
The Delta Eagles Wrestling Scholarship is awarded to a wrestler from Delta High School who wrestled during their senior year of high school and completed the senior year wrestling season in good standing. In selecting a recipient, consideration is given to academic performance, school and community activities, and awards and honors attained including wrestling achievements.