Bell Grant Provides Students a Chance to Learn Through Play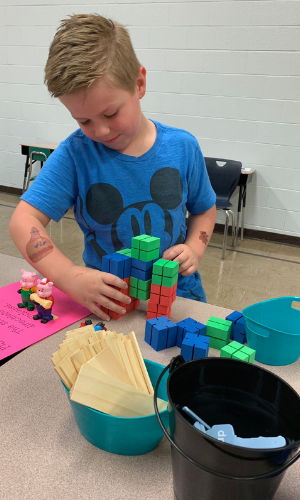 For the better part of the last academic year, the Cowan Elementary kindergarten students in Katrina Gibson's class would walk in to find exciting and unique learning experiences. As part of the Play to Learn project, Mrs. Gibson purchased and introduced games, activities, and materials that helped in developing fine motor and critical thinking skills. This initiative was partially funded with the support of a $446.94 grant from the Robert P. Bell Education Grant Program at The Community Foundation of Muncie and Delaware County, Inc.
Beginning last fall, the materials Mrs. Gibson ordered were slowly worked into the classroom. One of these materials was a Fairy Tales Problem Solving STEM Kit, a set that uses fairy tales as a background for problem-solving exercises. For example, in The Three Billy Goats Gruff set, the children are tasked with building a bridge strong enough for the three goats to cross. This activity, along with the others Mrs. Gibson planned for her class, stressed critical thinking and problem solving with STEM skills. Some of these activities were used immediately while others were trickled in as the children began learning the related subject in their main class. The process transformed Mrs. Gibson's kindergarten curriculum. The large-group activities from previous years turned into multiple learning stations, where children worked together to hone particular skills. Half of the six to twelve stations would focus on play, while the other half were based on ELA and Math activities - not that the children felt a difference.
"The kids absolutely loved it! They were excited to play. They didn't realize they were learning. They didn't want to leave when their teacher came back."
Two-thirds of the kindergarteners in Mrs. Gibson's section were able to master all the main six tasks - a ratio that she expects will near 100% if she starts this activity earlier this coming year. This goal will be even easier to reach now that Mrs. Gibson knows what to expect. "When it began, there was the expected tattling," she shared. "As it went on, they solved most of their own differences, and when they could not, they came to me telling me what they had already tried to fix the problem."
Seeing this growth in the kindergarteners was the only proof Mrs. Gibson needed to know that the Play to Learn was a success - but she's not stopping there. Mrs. Gibson wants to develop the program further next year, stating, "I look forward to doing this full on next year. I want to bring it from day one, and in addition to that, after seeing how this worked, I want to implement a similar structure with first grade."
Since the Robert P. Bell Education Grant Program was established in 1992 by the Board of Directors of The Community Foundation, more than $127,000 has been granted to teachers in the Muncie and Delaware County community. Bell Grants provide support for classroom projects that are innovative and creative and designed to stimulate learning - just like Play to Learn. Grants have supported projects in all subjects and grades.