EXTENDING COMMUNITY FUNDS FOR A BROADER SCOPE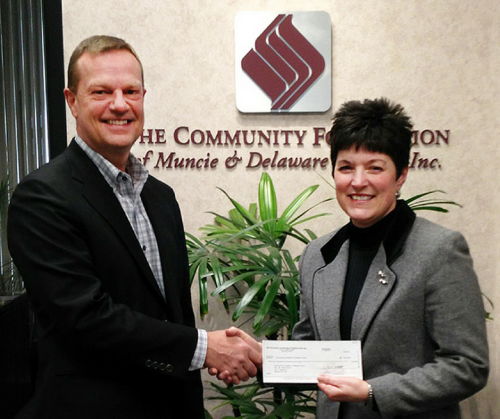 When the MutualBank Charitable Foundation was created in 1998, its founders had a clear purpose: to provide funding for charitable causes and to support the betterment of its market communities in any way that it could. To date, the organization has donated more than $3 million toward education, economic development, health care, the arts, and the United Way, and it continues to find ways to maximize funding for the greatest impact. Thus, the MutualBank Charitable Foundation began a partnership with The Community Foundation in 2001 when it created the unrestricted MutualBank Fund.
"We believe that having a fund at The Community Foundation of Muncie and Delaware County is a great way to broaden our scope of giving," says Pat Botts, president and COO of MutualBank and president of the MutualBank Charitable Foundation. "The Community Foundation board and staff are wonderful stewards of our funds, and they have a broad perspective regarding the areas of greatest need in our community."
Botts himself is heavily involved in a number of other civic organizations and has a strong personal investment in the betterment of Delaware County, which is why he is so pleased with the way the MutualBank Fund has grown. Not only did it receive matching dollars from the Lilly Endowment but the support and resources provided by The Community Foundation have by far extended the fund's reach.
He explains, "The unrestricted nature of the fund allows The Community Foundation the flexibility of addressing the most important needs during each grant cycle. They receive many more request than the Mutual Foundation, and therefore our money can be used to support worthwhile organizations that otherwise might not have requested funds from us."
He goes on to say that the MutualBank Charitable Foundation is always pleased with the periodic reports of grants it receives from The Community Foundation, knowing that the initial investment has had a far greater impact than it might have otherwise. Thus far, the fund has provided 29 grants worth more than $185,000 to a variety of different organizations, including the Boys and Girls Club, Muncie Parks, the Daleville Library, Hearts and Hands United, the Muncie Symphony Orchestra, Hillcroft Services, and more.
This is a terrific return on investment for donors who want to create a lasting legacy in Muncie and Delaware County.
"We have been amazed at how much support has been provided through our fund since its inception," Botts says. "The matches provided by Lilly combined with the stewardship of The Community Foundation have allowed us to magnify our impact many times beyond our original gifts. This is a terrific return on investment for donors who want to create a lasting legacy in Muncie and Delaware County."
Give Now
Your gift supports your community and the things you care about. Donate today to make Delaware County a better place today, tomorrow, and always.