Types of Funds and How They Benefit Nonprofit Organizations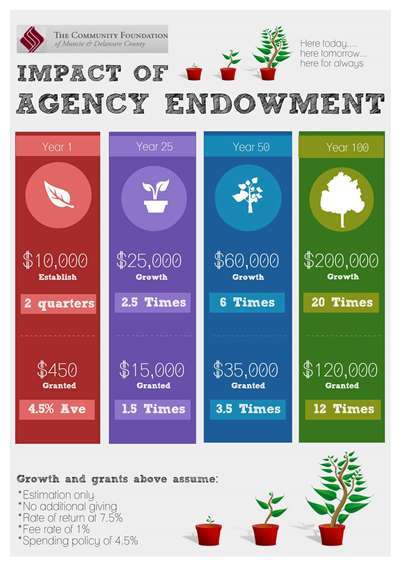 The Community Foundation manages several different types of funds. Donors contribute to or establish different funds to match their philanthropic goals.
Unrestricted funds make up almost 40 percent of our total endowment. These are the funds used for competitive grants. These funds require the highest level of trust from a donor. Donors to the unrestricted fund generally have a strong passion for the community as a whole.
Donors to field of interest funds are passionate about a specific cause without naming specific charities. Donors name the fund's purpose – such as education, and we identify the projects that can most effectively address the cause. We utilize these funds for Quarterly Competitive Grantmaking as well.
Some organizations have an agency fund. These are created by nonprofits to provide funding for the future to assist them in carrying out their mission. They are restricted to us but usually unrestricted to the organization. Similarly designated funds allow donors the opportunity to name a particular charity or charities to benefit from the fund. While the funding is restricted to the Foundation it is usually unrestricted to the nonprofit it benefits. The main difference between designated and agency funds is who starts the fund – a donor or the agency.
Donor advised funds allow donors to make recommendations for distributions to specific charities on their own timeline.
We also manage scholarship funds that support students pursuing higher education.
It takes $10,000 to start most types of funds and $25,000 to establish a scholarship fund. There is an option to help donors build a fund over time – the Acorn Program. Acorn Funds allow an organization to plant a "seed" that will grow over time to a "mighty oak". Donors or organizations can establish any type of fund through the Acorn program. They have the option of paying on a pledge over five years with only 10% up front to start the fund. The fund is not used for any purpose until it reaches the minimum level required. Once it is endowed it is invested and a portion of the interest is used for distributions or grantmaking.
There are three primary ways that a nonprofit organization might receive funding from the Foundation:
Donor Advised Grants
Donors may also elect to establish a donor advised fund. Donors who establish these funds do so in order to have the opportunity to recommend grants. These grants should always be initiated by the donor and it would be inappropriate for an organization to request a donor advised grant. If an organization receives a donor advised grant from the Foundation, it will come with information about the donor so that the organization can follow up with an appropriate thank you letter to that donor. Some donor advised grants are restricted to a specific program, most are unrestricted to the grantee agency.


Competitive Grants


The Community Foundation manages several competitive grant making programs through which nonprofit organizations can apply for funding.

Our most visible grantmaking program is Quarterly Competitive Grants. We grant about $1M each year through this process. There are four deadlines throughout the year. A letter of intent and an extensive application are required. We accept applications from all five of our broad areas: arts and culture, community betterment, economic development, education, and human services.

We also have grant deadlines for Land Conservation Grants, Bell Teacher Education Grants, Town Endowment Grants currently for the towns of Yorktown, Gaston and Selma, and large competitive donor advised grants for the Maxon Fund and the Kitselman Fund.

In addition to those grantmaking programs listed, we also have more than 45 scholarship funds.

Endowments
Organizations may also receive funding from The Community Foundation through an agency or designated endowment. In the community foundation world, an agency endowment is one started by the nonprofit themselves – The Soup Kitchen of Muncie brings in the money to start a fund in their own name. A designated endowment is one started by a donor to benefit an agency – Jane Doe writes a check for $10,000 to start a fund benefiting the YWCA. In both cases distributions from the fund will only be available to the organization named.

An endowment fund helps a nonprofit establish longevity, legitimacy, and continuity. The fund will outlive all of the executive directors, board members, and all of the people the organization serves. It assures funds are available for the organization's mission today, tomorrow and always.
Are you interested in learning more about partnering with The Community Foundation? We would love to learn more about your organization. Contact Kallie Sulanke, Community Engagement Officer at 765-747-7181.
Contact Us
We're all about serving the community, so we welcome input from the community. Tell us about a need, ask how to get involved, or just let us know what you think of our website. We look forward to hearing from you.