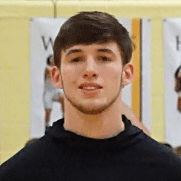 Noah Collins is the recipient of the Nicholas Brooks Sherfy Memorial Scholarship.
This scholarship was established by Shawn and Nikki Sherfy in memory of their son Nicholas (Nick) who had an unexpected heart attack and died in 2015. Nick was a 2010 graduate of Cowan Jr./Sr. High School and a 2015 graduate of Ball State University. This scholarship recognizes a student from Cowan who participates in athletics and has the desire and determination to pursue higher education.
"This will be a scholarship that Nick would have been eligible for," Shawn said. "He really enjoyed the social part of school, and the extracurricular activities along with the academics. It's about supporting someone who would resemble him and aspires to pursue sports with education."
Noah plans to attend Earlham College to study sports management. He is the son of Dave and Kristina Collins.