BUSINESS STARTS UNRESTRICTED FUND FOR FLEXIBILITY IN FUTURE USE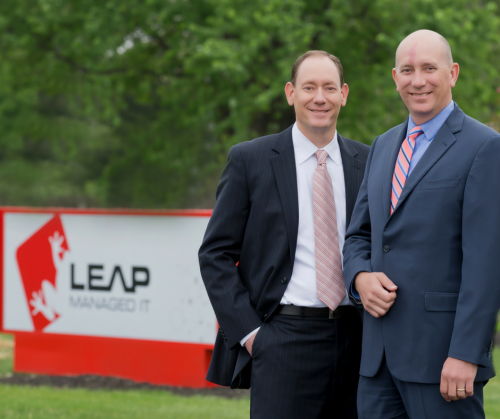 Brothers Gary and Michael Thomas have deep roots in Delaware County. Their grandparents, C.F. and Wilma Thomas, started the family business, originally Adding Machine and Typewriter, in 1930. Gary and Michael grew up on a farm near Gaston. Along with their sister, they were 10-year members of 4-H. From a young age, this experience showed them the value of giving back and making the community a better place.
Today the brothers operate LEAP Managed IT, a modernized name for that same family business focused on providing current technological solutions. The business operates on four pillars: hard work, proactive, community, and genius. The community pillar keeps the Thomas' engaged in the Delaware County community.
The business has always looked for opportunities to give back to the community. Gary gives his time. He serves on the Board of Directors and the Grants Committee of The Community Foundation. After getting a front-seat look at the work of the Foundation, he thought the company could do more. He approached Michael and his mother, Carolyn, about starting a fund. The consensus was almost immediate.
"From a business perspective Muncie has been great to us, and we are blessed to lead an organization that's been around for 87 years," says Gary. "One of our four key pillars is being a 'community steward.' The Community Foundation aligns perfectly with our mission."
The Thomas' determined that an unrestricted fund would best meet the needs of their organization.
Gary explained, "We didn't feel like there was one fund type we wanted to invest in. The needs of the community are different today than they will be in 30 years. We decided that an unrestricted fund made the most sense as it gave the most flexibility for the future."
The LEAP Managed IT Fund was established in early 2016. This unrestricted gift qualified for matching money from the Lilly Endowment Inc. Gift VI initiative. The Fund made its first grant in 2017, supporting TeenWorks' summer employment program for current high school students in Muncie.
Unrestricted funds, like the LEAP Managed IT Fund, support the Foundation's competitive grants program. Unlike designated funds, which support an organization or cause forever, unrestricted funds are available to support the ever-changing community needs.
Gary's wife, Amy, is also involved with the Foundation. Amy is a former program officer and currently serves on the Lilly Scholarship Committee. Together the couple established the Gary and Amy Thomas Fund. This unrestricted fund also received matching dollars through the Lilly Endowment Inc. Gift VI initiative.
"The Community Foundation is a gem, and it's one most business leaders don't fully understand," says Gary. "It sits in the background investing in opportunities to make others better. It's a thankless organization, and that's the way it should be. That's the way it was built more than 30 years ago. I would love to see more business leaders establish a fund at the Foundation both personally and in the name of their business. It's the right time to do it, and it's the right thing to do."
NEW FUNDS IN 2016
Acorn Funds – With the intention to mature to a full fund, the acorn fund can start with an initial contribution and grow with regular donations over five years.
Ashley Burgauer Scholarship Fund

Mike and Cathy Galliher Fund

Al Rent Honorary IPR/WIPB Public Media Student Fund

Molly Flodder TEAMwork for Quality Living Fund

Bobby Watters Scholarship Fund

Designated Funds – Select a particular charity or charities to benefit from your endowed gift.
Delaware Advancement Corporation Heritage Fund

Fieldhouse Renovation Fund

Donor Advised Funds – Take a role in recommending what nonprofit organizations will benefit from grants.
Schuyler and Mary Louise Buck Fund

Funders Forum Fund

Field of Interest Funds – Support a cause without naming specific charities.
Robert P. Bell Teacher Grant Fund

Scholarship Funds – Provide financial support to students in our community.
Schuyler and Mary Louise Buck Scholarship Fund

Unrestricted Funds – Living legacies that grow and change with the community, used for grants to nonprofit organizations serving Muncie and Delaware County.
Milestones: The Journey To Get There
$50 Million. That's a big number. We are pleased to share that we have supported programs and projects across Muncie and Delaware County with more than $50 Million in grants since our beginning in 1985. That is just one of the many milestones that The Community Foundation of Muncie and Delaware County achieved in 2018. Read our complete annual report to learn more.