Neely Agnew is the recipient of the Robbin S. Lindsey Memorial Scholarship.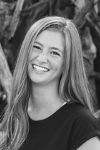 Neely is a senior at Yorktown High School. She plans to attend Ball State University to study exercise science. She is the daughter of J. and Kelly Agnew.
Robbin S. Lindsey Memorial Scholarship was created in memory of Robbin S. Lindsey, an original founder and long-time supporter of Yorktown Swim Club, who was tragically killed in an automobile accident while returning home from a USS swim meet. This scholarship is awarded to a college-bound senior member of either the Yorktown High School swim team or the Yorktown Swim Club. Recipients must demonstrate academic ability, leadership qualities, sportsmanship, citizenship, and involvement in extracurricular and community activities.