Nate Gonterman is the recipient of the Muncie Southside Spirit Scholarship and Murray's Jewelers Scholarship.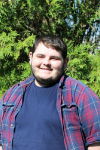 Nate is a senior at Muncie Central High School. He plans to attend Ball State University to study accounting. He is the son of Mary Dunn.
The Muncie Southside Spirit Scholarship was established by the Muncie Southside High School Class of 1971 to recognize a deserving student who would have graduated from Muncie Southside High School. The Class of 1971 recognized the importance of higher education and the cost to achieve it. The first Muncie Southside High School Spirit Scholarship was awarded in 2011, the 40th anniversary of the graduating class who established this award.
The Murray's Jewelers Scholarship was established to celebrate Murray's Jewelers 125th anniversary in 2010. The Murray's family recognizes the value of higher education in our community and established this fund to support a student from Delaware County who is planning to study fine arts or business at an Indiana college or university.