CELEBRATING THE FUTURE WHILE HONORING THE PAST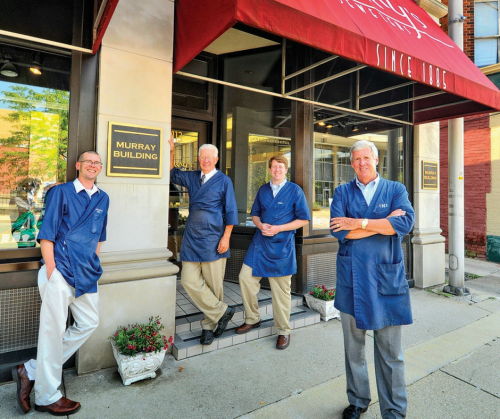 The same year The Community Foundation celebrated its silver anniversary, Murray's Jewelers marked its 125th year as a downtown Muncie tradition. Members of the Murray family met with members of the Foundation staff to discuss ways to commemorate the milestone. A scholarship fund that annually will benefit a Delaware County high school senior was the perfect choice. They chose The Community Foundation because of its reputation for tuning into donors' dreams and turning them into reality.
"We decided we wanted to give something back to the community for supporting us all these years," explains Todd Murray. "My brother [Steve] and I are the fourth generation in the business; my sons [Ryan and James] are the fifth generations, and they're committed to continuing the scholarship throughout their careers."
To help build the fund, the Murray family created a "scholarship box" and placed it in a prominent spot within the shop. This prompts conversation about the scholarship and serves as encouragement for community involvement.
If the box is a fairly new addition to the store, several other items are reminders of the past. The benches where the Murrays' great-grandfather and grandfather repaired watches are still in place, and employees still ring up sales on a 1911 cash register. Occasionally customers come in with vintage jewelry purchased from the store in its early years.
They enjoy the fact that they're handing over an heirloom to be repaired or sized by the great grandson of the man who sold them the jewelry. That's pretty special.
He's confident that customers also like the fact that "a portion of every dollar spent here will go toward scholarships that will help students continue their education."
Apply for Scholarships
The Community Foundation offers scholarships for students pursuing post-secondary education. Scholarships are available for high school and college students.