Freedom Bus Brings Field Trip to Students and Others Across the County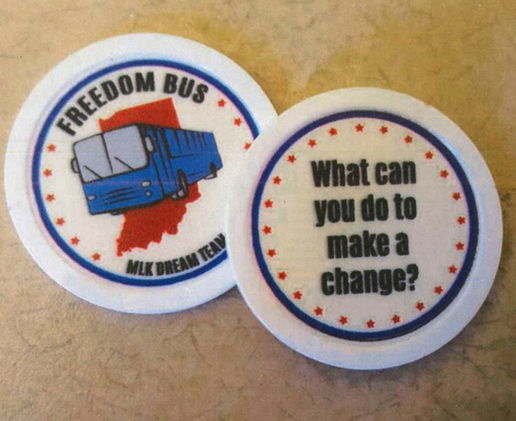 Many local 4th and 5th graders learned about East Central Indiana's history of civil rights activism on a special field trip, and they didn't even have to leave their school. The Freedom Bus visited 14 events targeting students, and 13 more targeting the general public and regional organizations in 2017.
In August 2016, The Martin Luther King, Jr. Dream Team received an $8,183 grant from The Community Foundation to support the Freedom Bus, a mobile museum that highlights East Central Indiana's history of civil rights activism. A retired MITS bus houses the museum, which is able to travel to schools, community centers, historical societies and community events.
Visitors of the Freedom Bus learn about different areas of the civil rights movement including the history of oppression, education, public accommodations, and more. Visitors have responded positively and enthusiastically with teachers commenting that the bus helps students see "social studies come to life."
Shortly after the grant was awarded in late 2016, the Freedom Bus was vandalized. Community support for the mobile museum and the history it shows was strong. Ball State University students cleaned the bus, a local business donated equipment for the clean-up, community members offered to assist with repairs, people stepped forward with donations, and the Martin Luther King Dream, Jr. Team received countless messages of support in person and on social media.
While the incident has made members of the Martin Luther King, Jr. Dream Team more cautious, it has also highlighted the importance of their mission to keep Dr. King's "dream" alive. As a part of the grant, the lessons available on the Freedom Bus have been expanded to include an interactive website that provides activities and connects students and teachers to the lessons and specific academic standards. The Freedom Bus is limited to locations in or near Delaware County because of the age of the bus, the cost of fuel, and the availability of CDL drivers. However, the historical lessons are available to a wider audience thanks to the website.
In 2018, the Freedom Bus will continue to visit schools and events to share stories of civil rights activism in our community, encourage visitors to help advance and safe-guard civil rights for all, and promote meaningful conversations between children, teachers, and parents about civil and human rights.
The grant was made as part of the Quarterly Competitive Grants program. Grants are awarded to fund projects for which there is a demonstrable community benefit in the areas of arts and culture, community betterment, economic development, education, and human services. Grant applications are evaluated quarterly. Learn more.
Apply for Grants
The Community Foundation grants to nonprofit organizations and educators throughout Delaware County through a variety of grant programs.