Mary Groover is the recipient of the Adam Cline Scholarship.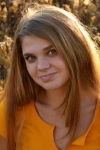 Mary is a senior at Delta High School. She plans to attend Indiana University Bloomington to study apparel merchandising. She is the daughter of Melanie Cabak and Mark Groover.
Upon graduating from Wright State University with his bachelors and masters degrees in English, Adam Cline taught online at Berkley University in California. Adam died from Muscular Dystrophy in 2009 at the age of 36. He lived life with compassion for others, enthusiasm, a positive attitude, and a wonderful sense of humor. The Adam Cline Scholarship was established in his memory.