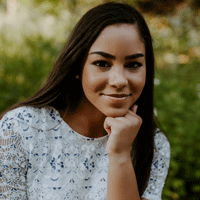 Marissa McCoy is the recipient of the 2020 Delaware Community Schools Memorial Scholarship.
This scholarship is awarded to a senior at Delta High School who has worked hard to achieve their educational goals, and who has exhibited citizenship and leadership in the community. The recipient may elect to attend any recognized post-secondary institute or school.
Marissa plans to attend Indiana Wesleyan University to study pre-law and psychology. She is the granddaughter of Dorothy Vance and Charles Vance.