Makayla Grow is the recipient of the E.K. Keesling Memorial Scholarship.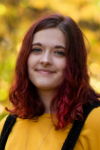 Makayla is a senior at Cowan Jr./Sr. High School. She plans to attend Indiana University to study psychology. She is the daughter of Cheryl and Rich Grow.
The E.K. Keesling Memorial Scholarship honors Erville Kenneth Kessling, who was a teacher and principal of Center School. This scholarship recognizes academic achievements and ability, citizenship and moral character, honors and awards, extracurricular activities, community service activities, work experience and financial need.