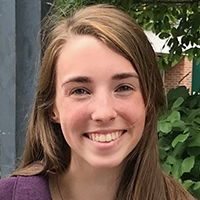 Madison Stevens from Yorktown High School is the recipient of the Gary W. Addison Scholarship.
The Gary W. Addison Scholarship Fund was created by Gary Addison, a former teacher in the Muncie Community School system. Noting a shortage of qualified students becoming teachers, Addison established the scholarship that is awarded to a graduating senior from Delaware County with a 3.0 G.P.A. or higher planning to major in K-12 education.
"I might never have gone to college if someone hadn't made funds available to me," said Addison, whose scholarship awards in college allowed him to attend university. "I thought, 'Somebody helped me in college; maybe I can start a scholarship.' Every little bit helps."
Special consideration is given to applicants based on academic ability, citizenship, community service, and extracurricular activities. This scholarship is designed for the student who has gone "above and beyond" in his or her academic studies outside the classroom and has not received other major scholarship awards.
Madison, daughter of Bryan & Maria Stevens, plans to attend Ball State University to study elementary education.