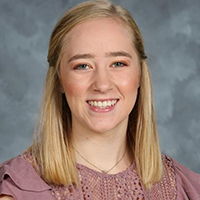 Mackenzie Walker is a recipient of the 2019 Kathleen Rozelle-Camplin Scholarship.
This scholarship is in memory of Kathleen who graduated from Daleville Jr/Sr High School in 1929. Selection is based on scholarship, community service, citizenship and participation in school activities.
Mackenzie, daughter of David and Sarah Walker, plans to attend Indiana Wesleyan University to study pre-medicine.