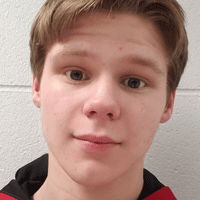 Logan Williams is the recipient of the Muncie Southside Spirit Scholarship.
Recognizing the importance of higher education and the cost to achieve it, the Muncie Southside Class of 1971 created this award for a deserving graduating senior to pursue the dream of furthering their education. The recipient must be graduating from Muncie Central High School and attended Wilson Middle School. Additionally, the recipient must rank in the top 20% of the class; plan to attend an accredited college, university, or technical college in Indiana; have participated in extracurricular activities or held a job outside of school; and demonstrate good citizenship.
Logan plans to attend Indiana University to study psychology. He is the son of Amber and Jay Williams.