BUILDING A LEGACY TO SERVE THE COMMUNITY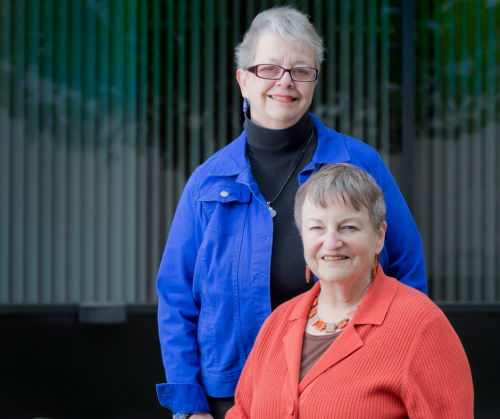 Sisters Linda and Connie Gregory established the Linda and Connie Gregory Fund just days before 2016 as their legacy to serve Muncie and Delaware County. This unrestricted fund was established now and qualified for matching money from the Lilly Endowment Inc. Gift VI initiative. It will continue to grow with estate gifts down the road. "Neither of us have children, so we wanted our estates to benefit the community," explained the Gregory sisters.
Muncie natives, Connie and Linda grew up in a working class family. Today, much of their time is spent doing things that benefit the community. Linda serves on the Foundation's Board of Directors and Grants Committee. Connie serves on a Scholarship Committee.
"We had great opportunities growing up and we know that a lot of people don't have those opportunities. It's important for those who do have advantages to pave a way for people who don't," says Connie.
Joining the Legacy Society is one way to make a lasting impact.
The Legacy Society recognizes donors who have made a commitment to the future of Muncie and Delaware County with a planned gift to The Community Foundation. Started in 2005 with eight members, the Legacy society continues to grow. A planned gift to the Foundation can help you accomplish your philanthropic goals and leave a lasting legacy in the community.
Milestones: The Journey To Get There
$50 Million. That's a big number. We are pleased to share that we have supported programs and projects across Muncie and Delaware County with more than $50 Million in grants since our beginning in 1985. That is just one of the many milestones that The Community Foundation of Muncie and Delaware County achieved in 2018. Read our complete annual report to learn more.