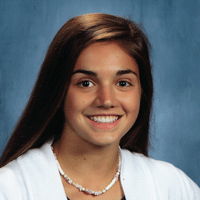 Leah Keesling is the recipient of the E.K. Keesling Memorial Scholarship.
This scholarship is awarded to a college-bound senior graduating from Wapahani High School who is a resident of Perry Township at the time of graduation or a high school senior (in any high school) or college student who are children or grandchildren of a graduate of Center School in Perry Township in Delaware County, Indiana. Recipients must currently be pursuing or plan to pursue a degree or certificate at an accredited college, university, or vocational school. In determining the recipient, consideration is given to the applicant's academic achievements and ability, citizenship and moral character, honors and awards, extracurricular activities, community service activities, work experience and financial need.
Keesling, a senior at Randolph Southern High School, plans to attend Purdue University to study food science and nutrition and dietetics. She is the daughter of Brad and Lisa Keesling.