Lauren Huffman is a recipient of the Sarah E. Adams Scholarship and Jon Hunter Memorial Scholarship.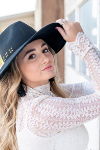 Lauren is a senior at Wes-Del Middle/High School. She plans to attend Ball State University to study nursing and Spanish. She is the daughter of T.C. & Samantha Huffman.
The John Hunter Memorial Scholarship was established by the family of the late Jon Hunter. The award is given to graduates of Wes-Del High School. Recipients must demonstrate love and dedication to their sport and possess high moral character.
The Sarah E. Adams Scholarship was established in memory of Sarah Adams who was a member of the women's golf team at both Muncie Northside High School and Muncie Central High School. A top golfer every year, Sarah played the game with enthusiasm and a spirit for winning. In October of 1996, a car accident prematurely took her life and that of her father, Foster "Sparky" Adams. The Adams Scholarship was created to reward a fellow golfer and to help continue that very passion for the game.