Khoa Weston is the recipient of the Bobby Watters Scholarship. Khoa is a senior at Daleville Jr./Sr. High School.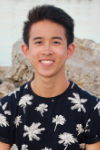 He plans to attend Trine University to study electrical engineering. He is the son of Rob and Shelly Weston.
The Bobby Watters Scholarship was established in memory of Bobby Watters by the Daleville Athletic Boosters. Bobby was a supporter of Daleville Jr./Sr. sports and attended every Daleville athletic event he could. This scholarship recognizes a graduating student from Daleville who has shown a passion for bettering the community, just like Bobby.