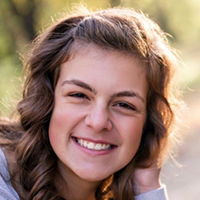 Kaitlynn Santino is the recipient of the 2019 Robbin S. Lindsey Memorial Scholarship.
This scholarship was created in memory of Robbin S. Lindsey, an original founder and long-time supporter of Yorktown Swim Club, who was tragically killed in an automobile accident while returning home from a USS swim meet. This scholarship is awarded to a college-bound senior member of either the Yorktown High School swim team or the Yorktown Swim Club. Recipients must demonstrate academic ability, leadership qualities, sportsmanship, citizenship, and involvement in extra-curricular and community activities.
Kaitlynn plans to attend Ball State University to study hospitality and food management. She is the daughter of Angela Santino and Anthony Santino.