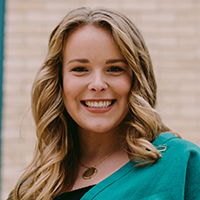 Kaitlin Scott is the recipient of the 2019 Lathrop P. Johnson Scholarship.
This scholarship was established in memory of Dr. Lathrop P. Johnson, Professor of German Emeritus in the Department of Modern Languages and Classics at Ball State University. Dr. Johnson's life work was helping young people understand more about themselves and others around the world through the study of language. This scholarship is awarded to a graduating senior from any Delaware County high school who plans to major, or dual major, in a foreign language.
Scott, a graduate of the Indiana Academy, plans to attend Indiana University to study international law and Arabic. She is the daughter of Rodney and Sandy Scott.