Joseph A. E. Fleming, VI is the recipient of the Jerry Parrish Scholarship.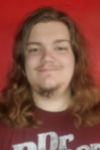 Joseph is a senior at Muncie Central High School. He plans to attend Purdue University to study computer science. He is the son of Joseph A. E. Fleming, V and Virgena Cel Fleming.
The 5000th Kiwanis Club of Muncie established the scholarship in remembrance of a former member, Jerry Parrish.