Jesus Cardoza, Jr. is the recipient of the Zach Greenwalt Scholarship and the Jon Hunter Memorial Scholarship.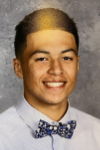 Jesus is a senior at Wes-Del Middle/High School. He plans to attend St. Edwards University to study business administration. He is the son of Jesus Sr. and Daisy Cardoza.
The Zach Greenwalt Scholarship is a four-year renewable scholarship awarded to a graduate of Wes-Del Middle/High School in memory of Zach Greenwalt, a Wes-Del High School graduate who passed away in 2009. Recipients must show academic ability as well as display positive character and good citizenship.
The Jon Hunter Memorial Scholarship was established by the family of the late Jon Hunter. The award is given to graduates of Wes-Del High School. Recipients must demonstrate love and dedication to their sport and possess high moral character.