The Morris Fund for Youth Helps Local Youth-Serving Nonprofits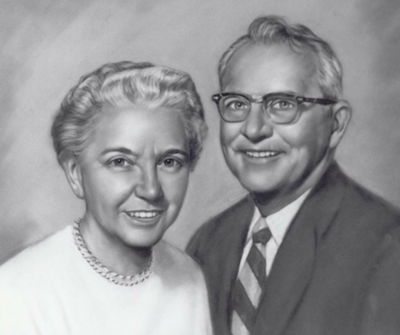 An estate gift from Jean & Mora Morris leaves a legacy on Delaware County organizations.
Jean and Mora Morris started their life together humbly. The couple married in 1933. Dr. Morris started his surgical residency at Ball Memorial Hospital in 1934, earning $10 a month plus room and board. Mrs. Morris, a Muncie native, worked as a home economics teacher.
While they never had any of their own, the couple shared a passion for the well-being of children. They also kept ties to Muncie even after moving to Hartford City in 1936. During their life together, the couple supported a variety of community organizations, but they always had a special interest in community programs that supported youth.
After her retirement and the death of her husband in 1991, Mrs. Morris spent her time and energy volunteering, advocating, and giving back to many worthwhile causes. But, Dr. and Mrs. Morris' impact didn't end there. Mrs. Morris had named The Community Foundation in her estate plans, resulting in a $2 million gift designated to support nine specific charitable organizations and other youth programs.
"In her wisdom, Mora Morris realized we couldn't possibly know today what all of the youths' needs of the future would be," said Roni Johnson, former president of The Community Foundation. "Therefore, we can use the money to react to programs that arise, or we can create a program if we see the need."
Due to the generosity of the Morrises, the following organizations receive annual support for their youth-serving programs: Boy Scouts Golden Eagle District of Crossroads Council, Girls Scouts of Central Indian, YWCA, YMCA, Big Brothers Big Sisters of Delaware County, Hillcroft Services, Muncie Children's Museum, Youth Opportunity Center and Muncie PAL Club.
In 2017, we asked grant recipients how they used the dollars from the Jean W. and Mora Morris Fund for Youth. Here's what they shared:
Through the generosity of the Jean W. and Mora Morris Fund for Youth in 2017, Big Brothers Big Sisters of Delaware County had 46 littles inquiries, 21 littles interviews, 97 bigs inquiries, 22 bigs interviews resulting in 16 new matches and 63 total matches. The funds were used to support our One-to-One Mentoring Program. Volunteers had great things to say about their little's and about their own experiences:
"Kyler has definitely been expressing his future endeavors and plans more with me than when he began…. He is much more mature in his everyday communications and especially in-person with friends and family!"
"Wow...where to begin? I look forward to spending time with Haidyn. She helps me to see things around me that I have never noticed - statues, birds nests, something funny in a store window. I don't have children of my own, so I enjoy getting to know and engage in my community with her, in activities I might not do on my own. She brings my Thursdays, when we spend time together, so much joy."
The Boy Scouts of America used their distribution to support their 2017 programming. During 2017, the local Golden Eagle district saw a 2.5 percent increase in youth membership – 40 new youth participants. The district reported more than 10,000 civic and Eagle service hours. There were 34 young men who earned the Scout's highest ranking of Eagle Scout. More than 430 adults volunteered their time to mentor young people.
The Girls Scouts of Central Indiana used their distribution to support their programming to more than 1,110 girls in Delaware County.
Hillcroft Services installed an outdoor playground area for children who attend their ABA clinic, which serves children from ages 2-21 diagnosed with autism spectrum disorders. In addition to other grants and donations, their distribution helped make the outdoor play area a reality. Debbie Bennett, president and CEO of Hillcroft said, "The children love having access to this colorful playground and it provides a setting where they can learn to communicate, socialize and exercise. These skillsets are valuable in transitioning them into public school settings when they are ready."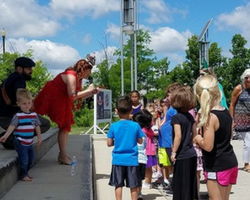 Muncie Children's Museum celebrated its 40th birthday with a yearlong celebration in 2017. With their distribution, the Muncie Children's Museum offered a FREE community concert in June at Canan Commons featuring Lucky Diaz and the Family Jam Band. Kids and their families got up, got moving, and learned through fun – one of the goals of the Muncie Children's Museum!
The Youth Opportunity Center used their dollars to support their Pillar Points store on campus. Pillar Point is a "store" stocked with books, hygiene products, games, toys, art supplies, and snacks for youth to purchase through a token economy. Youth visit Pillar Point on a weekly basis to shop, utilizing "points" they have earned through good behavior and a weekly allowance from the programs. The Jean W. and Mora Morris Fund for Youth funding provides a quarter of the funding needed to sustain Pillar Point for our campus. As one program manager stated, "Pillar Point is one way that YOC rewards our residents as part of our behavior modification program. Pillar Point is filled with simple items like shampoo and lotion, but our kids take great pride in purchasing and having their own personal items. Additionally….our kids love being able to purchase coke and candy which isn't provided on campus."
The YWCA of Muncie used their distribution from the Morris Fund for Youth to support their Emergency Shelter Program which provides 45 days of temporary housing for women and their children. The YWCA also provides extended shelter stays for women who need additional time and case management to assist them in moving from crisis to self-sufficiency. The YWCA has seen an increase in the number of women and children served each year – 683 in 2017.
One client found her way to the YWCA after a series of events stemming from an injury.
"I couldn't go back to work because of an injury and lost my job because of this. I was out for two quarters, which made me ineligible for unemployment or compensation. I lost my apartment because of this and was forced to move in with a friend. It became a bad relationship, and then I heard about the YWCA. I was afraid, at first.
"I think that it's a positive thing and it's a good thing for people to have a safe place to go when they are in a tough situation. Having running water, a refrigerator that works and support that the YWCA provides are things that are important. People come from all walks of life, and any of us can find ourselves in this position. The YWCA definitely has made a positive impact on my daughter, me, and the community. She is in 5th grade. She made the honor roll, the volleyball team, and even made new friends. Our room at the YWCA is decorated with all of her favorite hello kitty pictures- and we feel safe. Everybody that works here seems to be reaching out to help us and I appreciate that.
"Muncie needs this place. If it weren't for the YWCA, I wouldn't have my daughter, I wouldn't have a job, and I probably would've gone back to my abuser because I had no place to go. It has benefited me in the sense that I have a safe place to live with my daughter.
"I am currently taking online classes to get my BA in Business Administration. My goal is to complete my college degree in business and make a career. Thank you for helping the YWCA help me."
Jean and Mora Morris's legacy lives on through grants from their fund. Since the fund was established in 1994, $2.77 million has been distributed to youth-serving organizations.