Jascey Harrington is the recipient of the Michael Brodhead Scholarship.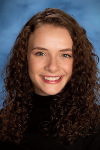 Jascey is a senior at Cowan Jr./Sr, High School. She plans to attend Florida Gulf Coast University. She is the daughter of Jason and Stacey Harrington.
Michael Brodhead was born with a congenital heart defect. He lived life with great enthusiasm and courage. Michael was thirteen years old at the time of his death in 1989. His parents chose to create the Michael Brodhead Scholarship to help others who had overcome obstacles in their lives attain the goal of a college education--something Michael had looked forward to achieving.