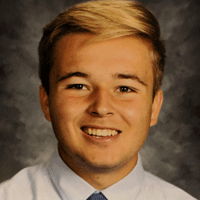 Jaigen Glaze is the recipient of the 2020 Tom Devine Memorial Scholarship.
The Tom Devine Memorial Scholarship was established in memory of Tom Devine, a longtime staff member of Delta High School who passed away in 2012 following a courageous battle with colon cancer. As a teacher and coach, he was known for his compassionate respect for every individual during his 34-year career. Tom always had a positive impact on others because of his entertaining style, passion for music and energetic personality.
This scholarship is awarded to a graduating senior from Delta High School who plans to attend an Indiana college or university. In determining a recipient, consideration is given to potential for success, challenges or hardships the applicant has faced or obstacles the applicant has overcome, time spent with school activities and/or outside employment, financial need, and academic ability.
Jaigen, son of Randy and Cindy Glaze, plans to attend Indiana Wesleyan University to study pre-law and psychology.