HELPING STUDENTS OVERCOME FINANCIAL HURDLES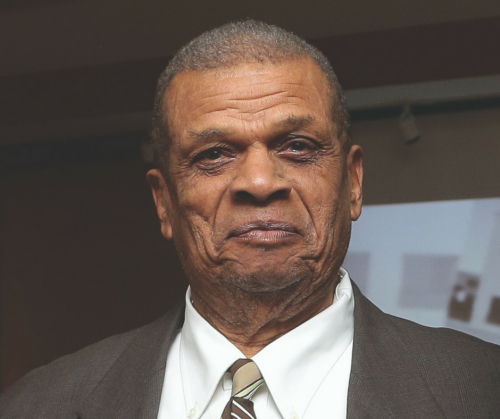 Education advocate Hurley Goodall was among the first Foundation supporters to recognize the impact that a permanent endowment scholarship could have on local students and their home community. As the Foundation celebrated its 30th anniversary, the Hurley and Fredine Goodall Scholarship Fund marked 20 years of helping minority students earn associate degrees at Ivy Tech Community College—tuition-free.
"Education is the key to having a good life," says Goodall, a former member of the Muncie school board, retired state legislator and visiting scholar with the Center for Middletown Studies at Ball State University. The fund that was established in 1995 in honor of he and his wife has distributed $130,629.78 to assist dozens of college-bound students. The good news: Because the fund is an endowment, it will continue to grow. Its current value exceeds $150,600.
We wanted to encourage people, particularly those who are less affluent to get a higher education and be successful.
Goodall believes that the Foundation is an ideal intermediary between the donor and the community, and it helps make the daunting task of philanthropy manageable and accessible. "This is the only hope to making change happen," said Goodall.
The benefits of the Goodall Scholarship go far beyond easing the financial burden of low-income families. Ninety percent of Ivy Tech students stay in the community after graduation. Whether they earn associate degrees and enter the Delaware County workforce or transfer to one of Ivy Tech's partner universities such as Ball State, students tend to stay in the area and contribute to the local economy.
According to Rheaunna McDonald, Early Childhood Education major at Ivy Tech and the Goodall Scholarship recipient 2013-2015, "With this scholarship, all the necessities and supplies needed for my classes will be paid for and I will be more motivated in accomplishing my academic goals knowing I can pay for these items. I want to be able to encourage students that are from lower income families to not let financial burdens keep them from receiving the education they deserve. Education is not just a privilege, it is essential to the future of this community, state, and the country."
Apply for Scholarships
The Community Foundation offers scholarships for students pursuing post-secondary education. Scholarships are available for high school and college students.