COMMUNITY COLLABORATION FILLS CRITICAL NEED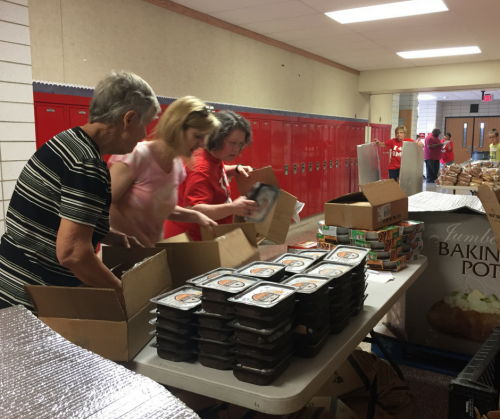 The Community Foundation values community involvement. Many grants, like the one awarded to Liberty-Perry Alumni Association, have an element of collaboration. In this same spirit, a new program of Second Harvest Food Bank of East Central Indiana, Inc. is bringing together many community partners.
Panther Pantry, a school pantry program, opened at Southside Middle School in 2016. Second Harvest opened the pantry to make grocery items available to students and their families in a safe, convenient, and familiar environment.
The program relies on cooperation between the food bank, the school, and local organizations to ensure success. While Second Harvest provides the food and manages some logistics; the school provides space and, along with community volunteers, staffs the pantry. A $20,000 grant from The Community Foundation defrayed the cost of the program.
The food gap in our community is staggering. According to Feeding America, more than 20,000 people in Delaware County are food insecure. Many face a seven-pound food gap each week. With 88 percent of students at Southside eligible for free or reduced-price lunch, it is likely many families face this gap.
With support from school administration and volunteers from nearby Fairlawn Church, students and their families can visit the pantry monthly. It operates in a client-choice fashion. Families walk through and select the items they want to take home, like a grocery store. The pantry meets an immediate need, providing food, but because of its emphasis on full-family participation, it also encourages parental involvement at their child's school. Teachers can get to know parents during their visits to the school resulting in improved student performance. This program, not only meets a critical need today, but it builds hope for tomorrow.
"The principal greets every family at the door," says Sarah Rivera, Program Coordinator at Second Harvest. "Teachers come down. Parents and school staff have conversations. It's making a difference in the school."
The first distribution in February of 2016 saw 38 families. More than 100 families attended the following month proving the need is there in our community. Now each distribution sees 200 families.
Second Harvest believes this new and improved food pantry model will have a long-term impact on the community. It comes with positive messaging for students and increased parental engagement in the schools.
Two more school pantries have opened in South View and Sutton Elementary Schools. Their goal is to have school pantries across Delaware County. This effort will reach all families in need while cultivating better parent-teacher relationships. Community Foundation grant dollars not only covered the cost of food but also supported the people working to broaden the reach to more food insecure residents.
Milestones: The Journey To Get There
$50 Million. That's a big number. We are pleased to share that we have supported programs and projects across Muncie and Delaware County with more than $50 Million in grants since our beginning in 1985. That is just one of the many milestones that The Community Foundation of Muncie and Delaware County achieved in 2018. Read our complete annual report to learn more.