Hayden Armstrong is the recipient of the Tom Devine Memorial Scholarship.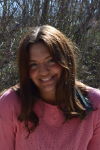 Hayden is a senior at Delta High School. She plans to attend Ball State University to study psychology. She is the daughter of Maurgan Hulecki and Bradley Armstrong.
The Tom Devine Memorial Scholarship was established in memory of Tom Devine, a longtime staff member of Delta High School who passed away in 2012 following a courageous battle with colon cancer. As a teacher and coach, he was known for his compassionate respect for every individual during his 34-year career. Tom always had a positive impact on others because of his entertaining style, passion for music and energetic personality.