GRANT EXTENDS EDUCATION DURING NATIONAL FRENCH WEEK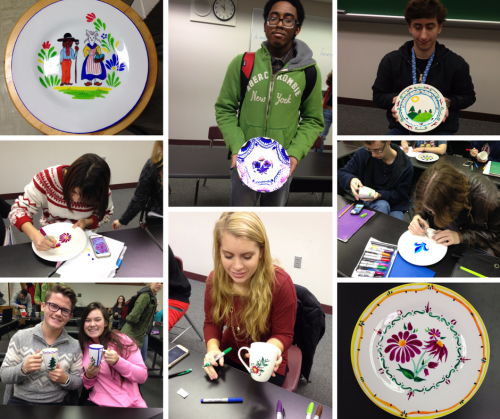 The Indiana Academy for Science, Mathematics and Humanities French teacher Jennifer Robinson and her students celebrated National French Week (NFW) November 4-10. A $209 Robert P. Bell Education Grant supported a project titled Faience de Quimper, that added an arts and crafts component to the week.
The project focused on the hand-painted pottery traditions in the Brittany region of France, which date from the Gallo-Roman era and continue today. Students participated in a two-part workshop. During the first session, students participated in a historical and cultural presentation and demonstration on Quimper pottery. They also researched patterns online and selected traditional designs to replicate on stoneware plates. During the second session, the students "painted" their pottery pieces using permanent markers. Finished work was displayed in a gallery show.
To extend the reach of the project, each student also made an extra hand-painted pottery item to offer to someone in the community along with a student-produced card explaining the Quimper tradition, the significance of the chosen design, and facts about French language.
"The students were enthusiastic about doing something 'different' and 'hands-on'," said Robinson. "Many said it was relaxing, while others were frustrated with the details. Since the project completion, quite a few students have asked if I have extra plates and mugs so they can come by my office and decorate another."
"Despite the scheduling challenges, the project was a success, and I think many students will look back on the activity fondly. I could not have done it without funding from the Robert P. Bell Teacher Education Grant."
Robert P. Bell Education Grants are funded in part from the Robert P. Bell Teacher Grant Fund at The Community Foundation of Muncie and Delaware County. Donate to support future projects, like this one.
Give Now
Your gift supports your community and the things you care about. Donate today to make Delaware County a better place today, tomorrow, and always.