Elizabeth Reece is the recipient of the Jim Leffler Memorial Scholarship.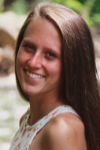 Elizabeth is a senior at Yorktown High School. She plans to attend University of Wisconsin-Milwaukee to study chemistry. She is the daughter of Dave and Natalie Reece.
Awarded in memory of Jim Leffler, a swimming and cross country coach at Yorktown High School who lost a courageous battle with cancer in 2012, this scholarship is awarded to a college-bound member of the Yorktown cross country team.