PREPARING YOUNG PEOPLE FOR A HIGH-TECH FUTURE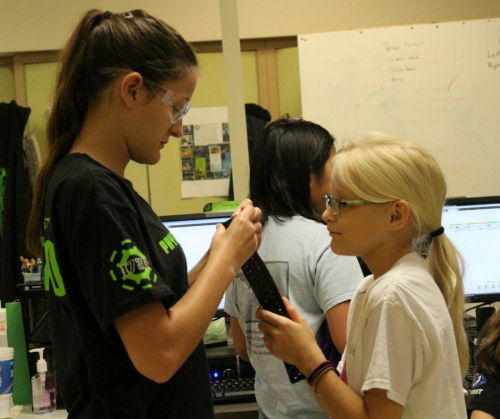 Reducing hunger is one way to help students succeed in school. Engaging young people is another. Muncie/Delaware Robotics serves to build excitement, understanding, and skill in the field of engineering and technology through the FIRST Robotics program.
Muncie/Delaware Robotics has a permanent home in MadJax Muncie, a maker's space located at the corner of Madison and Jackson streets in downtown Muncie. The group currently works with high school students to solve complex technical challenges, build robots, and take part in regional and statewide competitions. Participants develop life-long skills like perseverance and understanding teamwork. They gain proficiency in math and science. Their new home includes a community room furnished by a grant from The Community Foundation. This space allows the organization to recruit a cohort of younger students for a Lego-based robotics team.
The new FIRST Robotics Lego League team will serve fourth through eighth graders. High school participants will mentor the younger cohort. Participants will build EV3 robots utilizing Lego blocks, motors, sensors and programming tools. Additionally, as other area middle schools form teams, they will be able to use the community room to encourage collaboration and simultaneous learning county-wide.
The $10,000 grant from The Community Foundation was provided to purchase a smart board, tables, chairs, and equipment necessary to furnish the community room. The furnished room enables Muncie/Delaware County Robotics to engage members at a younger age. Building, practicing, competing, and collaborating will better prepare them for a high-tech future.
CELEBRATING SUCCESS INSPIRES GROWTH
For a strong future, the community needs highly-skilled young people as well as strong, growing businesses. The Innovation Connector is Muncie's full-service business incubator. Their BIG Idea Pitch and Excellence in Innovation Award Banquet celebrate local entrepreneurs.
The Innovation Connector is the place to start if you want to launch or grow a business in Delaware County. The support of professionals can help entrepreneurs connect in the Delaware County community. BIG Idea Pitch competitors and attendees of the Excellence in Innovation Award Banquet have the opportunity to understand better how to use the services of the Innovation Connector.
To reach new groups in the community that may never have participated before, the Innovation Connector asked The Community Foundation for support. A $3,000 grant supported marketing and event engagement activities. These promotions targeted local high schools, technology-type clubs, Ball State Technology organizations, and social organizations, like the Boys & Girls Club. The efforts encouraged new audiences to take part and connected them to resources to help them grow.
LEADERS MOVE OUR COMMUNITY FORWARD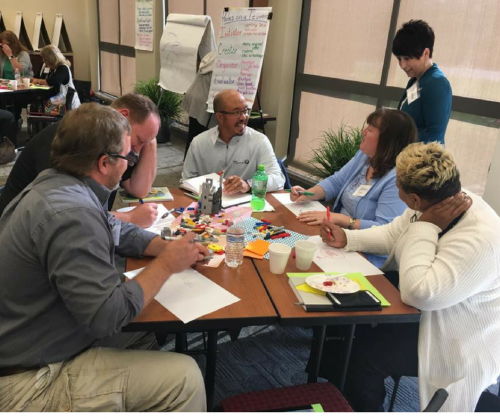 New businesses can't thrive without strong leaders. Shafer Leadership Academy began a decade ago. It began with one program and 24 participants. In 2016, they offered 60 programs and served 1,880.
Since 2008, The Community Foundation has helped grow leaders through grants to Shafer Leadership Academy. These grants supported scholarships designated for nonprofit leaders. In 2016, another group of underserved leaders was identified.
Shafer Leadership Academy worked with Muncie Action Plan and Ball State University's Building Better Neighborhoods to identify opportunities for neighborhood association development. Together, they hosted the first Neighborhood I.D.E.A. Conference. The conference brought more than 100 neighborhood leaders together for a one-day event. The event included education and inspiration from a keynote speaker and breakout sessions.
Building on the momentum from the conference, scholarships provided by The Community Foundation propelled deserving neighborhood association attendees into a well-known leadership development class.
"Neighborhood association leaders are volunteers who serve because they are committed to ensuring a high quality of life for their family and their neighbors," said Heather Williams, program manager for Building Better Neighborhoods. "Shafer Leadership Academy's 2016 Emergence Program provided an important learning experience to help neighborhood association leadership reach their fullest potential."
This year grants from the Foundation funded eight scholarships. Neighborhood and nonprofit leaders attended Emergence and Alliance, two of Shafer Leadership Academy's key programs.
The support continues in 2017, as Shafer Leadership Academy received a $14,850 grant. It will provide scholarships and allow the organization to build capacity as it continues to grow.
Milestones: The Journey To Get There
$50 Million. That's a big number. We are pleased to share that we have supported programs and projects across Muncie and Delaware County with more than $50 Million in grants since our beginning in 1985. That is just one of the many milestones that The Community Foundation of Muncie and Delaware County achieved in 2018. Read our complete annual report to learn more.