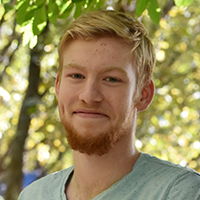 Declan Gill is the recipient of the Dr. Albert O. Miller III Scholarship.
Grateful for the outstanding education he received at Cowan Jr./Sr. High School, Albert Miller, now a dentist practicing in East Central Indiana, decided it was time "to give back to the community." In 2012, he established the Dr. Albert O. Miller III Scholarship fund. This year marks the inaugural award.
Recipients of the scholarship must be a resident of Monroe Township, a senior at Cowan Jr./Sr. High school, and plan to attend an accredited four-year college or university. Consideration is given to academic ability, activities, leadership, and demonstrated financial need.
"It's critical to get children on the right track at an early age," said Miller. "Cowan does just that." He describes his alma mater as small but with a fine academic program. "It gave me an excellent foundation."
Declan plans to attend Ball State University to study information technology. He is the son of Jon and Amy Gill.