SCHOOL COUNSELOR USES BELL EDUCATION GRANT TO ENHANCE MINDFULNESS OF STUDENTS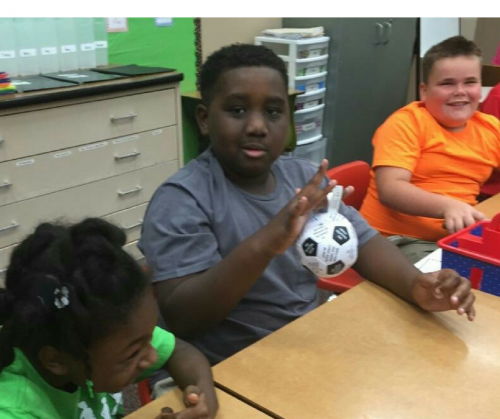 Elementary school counselor Emylie Anderson saw a need at Mitchell Elementary School to increase her students' focus on mindfulness.
Mindfulness helps students look within to become aware and embody the connection between their emotions, thoughts and bodily sensations. Understanding these connections can help students regulate their emotions, which leads to improved behavior, lower stress levels, better relationships and a greater ability to focus.
Anderson had an idea. She wanted to get her students, through classroom lessons and in small groups, to talk about difficult topics, like dealing with anger, fear, etc. She applied for a Robert P. Bell Education Grant to purchase tools to enhance the conversations. A $200 grant allowed Anderson to purchase 16 Thumballs, small stuffed balls with varying directives on each, depending on the topic being discussed.
"My goal for this project was to get the students to communicate more and open up about difficult topics, which would help them to grow socially, emotionally, and academically," said Anderson. "I feel as though the Thumballs have been a huge success. The students have opened up about topics that previously were difficult to discuss without the Thumballs. When the students see me in the hallways, they ask me if I will bring a Thumball to my next lesson in their classroom. They look forward to it, because it's fun and because it's a nice change from the regular lesson format."
The Thumballs will continue to improve mindfulness at Mitchell Elementary School. While Thumballs like the "group starter" worked as an ice breaker at the beginning of school year, additional Thumballs will help Anderson facilitate conversations about testing, careers, empathy and self-control.
Robert P. Bell Education Grants are awarded to teachers and counselors with creative and innovative ideas, programs, or projects that are designed to stimulate learning in their students. Grants range in size from $50 - $450.
Apply for Grants
The Community Foundation grants to nonprofit organizations and educators throughout Delaware County through a variety of grant programs.